In the heart of the Bordeaux vineyards…
Located in the Entre-deux-Mers, in Saint-André-du-Bois in Gironde (33), our estate extends over four bordering villages: Saint-Martial, Sainte-Foy-la-Longue, Arbis and Mourens.
In the heart of the Bordeaux vineyards, the Entre-deux-mers (literally between two seas) is the region situated between the Garonne river and the Dordogne river. It offers a large diversity of landscapes, valleys and hills, covered with forests and vineyards, and constitutes a great reservoir of biodiversity.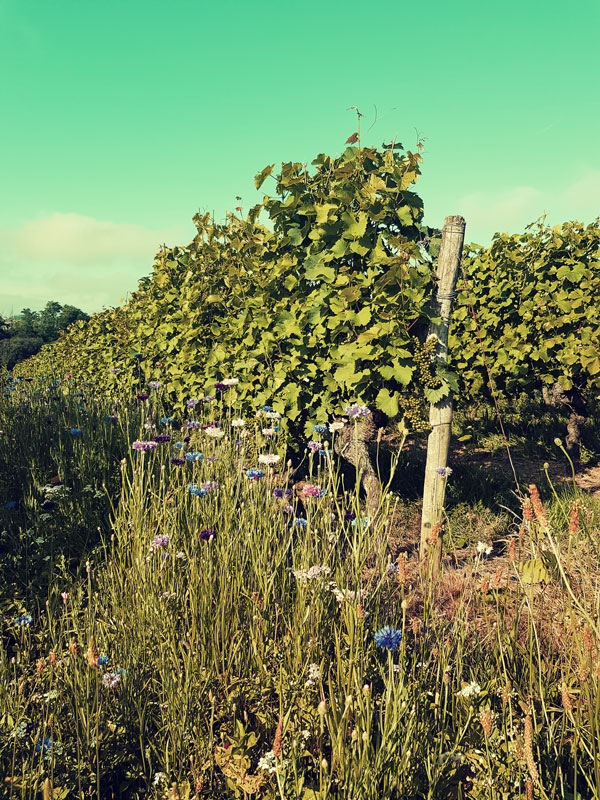 Our Estate
Our estate is made up of 23 hectares of vines including 18.34 in red varieties: 7.48 hectares of Merlot, 8.90 hectares of Cabernet Sauvignon, 1.43 hectares of Cabernet Franc, 0.50 hectares of Malbec and 0.45 hectares of Petit Verdot.
We also grow 4.68 hectares of white grape varieties: 1.21 hectares of Sauvignon Blanc, 2.65 hectares of Sémillon and 0.82 hectares of Muscadelle.We produce wines in the Bordeaux and Bordeaux Supérieur red and Bordeaux Blanc appellations and a small amount of rosé wine.
Our work
Rather than certified organic farming, we have turned to sustainable farming and plan to acquire the qualification High Environmental Value for the 2019 vintage.
We have chosen to keep our rows grassed to preserve the life of the soil. Many of our plots are surrounded by woods that guarantee us a true reservoir of biodiversity. We have also planted flowering fallow to favor pollinating insects.